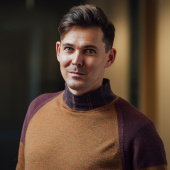 Daan De Wever

Group CEO, Dstny
Speaker Profile
Daan De Wever studied Economics at the KUL, followed by a Masterclass in Financial Management in Antwerp and successfully followed several management programs at the Vlerick Business School. Daan started his career in 2001. From the very beginning he gave his entrepreneurial spirit free rein. At the age of 21 he founded, together with his brother Samuel, Belgian Network Solutions (Benesol) that sells server space for Belgian IRC channels. In 2004 he led (together with the CEO) the successful start-up of Infranea, a construction company specializing in 3D engineering, and in 2008 he founded Destiny. The entry of a number of business angels and small start-up funds made it possible for Destiny to become a prominent Belgian player in the then still small cloud telecom market.
Today Daan is CEO of Dstny, which has grown into a leading European provider of cloud-based business communications, delivered both directly to companies and through partners and service providers. In this fast growing scale-up, Daan saw a huge opportunity to apply his experience in the information and services industry, as well as skills in M&A, management and coaching a young, dynamic team. He built Dstny in a sustainable way. From the first acquisitions in Belgium, the Netherlands and France, over crucial acquisitions in 2021 in Sweden and Denmark, to the most recent acquisitions in a.o. UK today. Dstny's rapid but sustainable growth has been achieved by Daan through an arrowhead acquisition process and buy and build strategy thanks to attracting the right investors: Mentha Capital Private Equity in 2015 and in December 2019 French Apax Partners took up the torch.
In February this year, Daan united the more than 10 companies in the group under one new brand identity and changed the name from Destiny to Dstny. To further build European brand awareness, Daan also steps into cycling sponsorship and with Dstny becomes the new co-title sponsor of the Belgian UCI Worldtour cycling team Lotto-Dstny starting in 2023.
Today, Dstny - under Daan's leadership - has grown into a leading European player in interactive and cloud-based business communication tools that operates in 7 European countries (Belgium, Netherlands, France, Germany, Sweden, Denmark, UK) from its headquarters in Brussels, employs more than 900 people, helps simplify the daily lives of more than 2.5 million users and closed 2021 with annual revenues of €190 million.
(Photo by Debby Termonia)